Attending Camp
Arrival Day- Detailed information on new procedures will be available later in the spring
Activities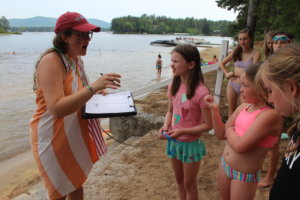 Pick Up Day- Detailed information on new procedures will be available later in the spring.
ITEMS NOT TO BRING:  Cell phones, IPODS or electronic devices are allowed at camp. This means no hand held video games, music players, e-readers, Go Pros, fitness trackers, smart watches or any device which permits access to telephone, internet or recording. Campers are allowed to bring cameras, but the camera must not do any other functions including video recording. Electronic devices will be confiscated if found. The inability to follow this important camp policy may be a cause for dismissal.
DISMISSAL: We reserve the right to dismiss any camper whose behavior is unacceptable and contradictory to the Huckins Spirit. Behavior such as fighting, bullying, stealing, use or possession of alcohol, tobacco(including Juul and other ecig devices)or drugs, and use or possession of weapons of any sort are not tolerated and will result in immediate dismissal from camp.